Mobile Cleaning
Incl. qualified personnel

Incl. dry ice blasting unit

Incl. compressor

Incl. dry ice

Incl. journey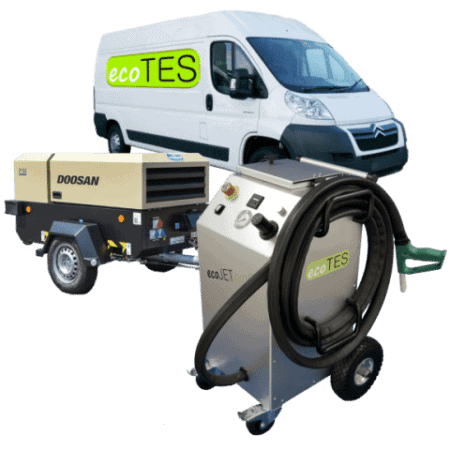 Dry ice cleaning - We make it ice-cold
Dry ice cleaning – 100 % effective & climate neutral. Fast – Clean – Cheap from the professional. Our mobile service comes to you. Mobile dry ice cleaning from ecoTES is #without water, #without wastewater. Our mobile service team comes to you on site and cleans according to your wishes quickly, reliably and inexpensively. Dry ice cleaning is our strength, and you can rely on us – we are the professionals. Dry ice blasting equipment from ecoTES does completely without chemical cleaning agents. Dry ice blasting is a clean cleaning method – without chemicals – without water. Dry ice pellets dissolve without residue, so there is no waste water. Dry ice cleaning is economical and innovative. You have special questions – We have the right answer – We make it ice-cold!
Your ecoTES Team
Advantages at a glance
Dry ice cleaning is a gentle cleaning method with significantly reduced costs compared to traditional cleaning methods. No disposal costs because there are no blasting media residues. No environmental impact because no hazardous chemicals or abrasives will be used. No water, no waste water, no corrosion. Dry ice blasting can be used in electrical installations. Gentle and careful cleaning without damaging surfaces and materials. Hardly any production downtime, disassembly and assembly are not necessary. Dry ice blasting is an environmentally friendly, safe and economical method.
We clean quickly with dry ice
We inform you about the advantages of dry ice blasting compared to conventional glass bead, sand, soda or steam jet cleaning methods. Individually according to your requirements, ecoTES cleans with the highest quality. We would be pleased to convince you of the advantages of dry ice blasting at your site, of course without obligation. ecoTES is your reliable partner for innovative and cost-effective cleaning with dry ice blasting. Make an appointment for a test blasting. We only clean with high quality dry ice blasting equipment.
Application area
Dry ice blasting equipment from ecoTES is successfully used in all areas and industries. Our dry ice blasting equipment efficiently and environmentally friendly removes soiling, such as adhesives, grease, incrustations, oil, graffiti, paint, lacquer + rust conditional, ink, paper residues, resin, soot, chewing gum, dirt, tar, wax, binders, bitumen, silicone, release agents, rubber, burns and much more.
Application examples video
Removing paint from wooden shingles
Remove underbody protection
How does dry ice cleaning work?
Dry ice cleaning is a compressed air blasting process.
Dry ice blasting equipment from ecoTES removes dirt using dry ice pellets and compressed air. The combination of ice-cold pellets and highly accelerated pellets ensure that surfaces are comprehensively cleaned of dirt particles. Upon impact with the surface, dry ice completely sublimates to CO₂ gas and dissolves in the room completely, leaving no residue. Dry ice blasting is a gentle cleaning method without the use of water or chemicals. Dry ice pellets up to 3 mm in size with a temperature of -79 °C are used as blasting media. Dry ice pellets are non-toxic, non-flammable, chemically inert, electrically non-conductive and leave no moisture.
Dry ice pellets function
Subsequent granules penetrate the crevices and sublime abruptly on impact. During sublimation, a strong increase in volume takes place. As a result, the layer to be removed is completely separated from the substrate. The advantages of this hardly abrasive blasting process are that no abrasive remains and only the loosened dirt has to be disposed of. Due to the possibility of cleaning the smallest geometries and different materials without dismantling, dry ice blasting is used in many areas of industry, in car reconditioning, in facade renovation, in the construction industry, in the catering trade and many others for cleaning casting molds, engines, assemblies and even complete machines.
Dry ice blasting removes tar, oil, rubber, silicone, soot, adhesives, food residues and much more.
Dry ice blasting machines from ecoTES
Low operating noise during dry ice cleaning.
Precise technology prevents "freezing / clogging" of the machine after work breaks.
Reliable technology.
Proven user-friendliness.
Dry ice efficiency due to optimized mixing unit, thus low dry ice requirement.
With innovative system control and ergonomic blasting gun, you work without fatigue and achieve the best cleaning results.
ecoJET-pro series in use from gentle cleaning to maximum cleaning power for particularly stubborn dirt.
Multiple compressed air connection technology and compact design guarantee flexible and mobile working.
Unwanted work interruptions due to clumped dry ice are a thing of the past, thanks to innovative design.
With ecoJET-pro you acquire dry ice blasting machines that meet the highest quality requirements, at the best price-performance ratio.